PAN Asia Pacific's No Land, No Life! Campaign, together with the Asian Peasant Coalition (APC), has launched the Peasants Rise Up broadcast series. The series, hosted by Bobby Ramakant of Citizen News Service and Christina Sayson, tackles landlessness, corporate control of agriculture, human rights, and other issues currently faced by the peasantry across Asia. The Peasant Rise Up series is part of the Global People's Summit for a Just, Equitable, Healthy and Sustainable Food Systems. It celebrates the success stories of the peasant movement and highlights the call for land to the tillers as necessary for a truly radical food systems transformation.
In the second episode focusing on Indonesia, Asnia of Seruni and Udin Masi of (Aliansi Gerakan Reforma Agraria) AGRA Sulawesi shared on working conditions of rural women on palm oil plantations in Riau province and land grabbing in Central Sulawesi.
After preparing meals for her family, Asnia leaves home before the sun rises to go to work. Bringing her own tools and wearing rubber boots, long sleeves and a hat to protect herself from the heat of the sun, rural women like Asnia work for an average of eight to 12 hours a day in palm oil plantations in Riau province, Indonesia.
Considered to be the biggest producer of palm oil, Indonesia contributed over half of the global production of the commodity in 2020. But the race to make profits from palm oil leads to labour exploitation and land-related human rights violations.
Harassment of women
According to Asnia, palm oil corporations deprive its workers of a liveable wage. "Peasants could only work for 12 days in a certain season and corporations do not provide the minimum wage in accordance to state regulation,"she said.
She also noted that the minimum wage in Riau province—IDR 2.8 million per month or 25 working days—is far from the wage that rural people need to live a decent life. "At least 50 to 70 percent of our wages are spent on food. We still need to pay for other basic needs–water, electricity and rent–leaving almost nothing for other expenses, especially for our children who attend school. We only rely on close family members to help us with the transportation expenses of our children so that they could go to school," she added.
Aside from low wages, women workers also suffer from inhumane treatment by big palm oil corporations. Asnia shared that they need to undergo a vaginal check-up to make use of their menstrual leave. "They would ask us to take off our underwear so that a midwife could attest that we needed to take the time off from work," she said.
Asnia, along with other women workers on the plantations, made a formal report detailing the harassment they suffered; but neither the corporation nor the government took the necessary steps to protect women or responded to the said report.
The onset of the COVID-19 pandemic in Indonesia worsened the conditions of workers. No one was able to attend to the medical needs of sick workers because doctors and nurses did not come in to work in the clinics.
Palm oil corporations have also taken advantage of movement restrictions to steal lands from rural communities and expand their plantations. According to the year-end report of Konsorsium Pembaruan Agraria, 101 out of 122 cases of land conflicts in the plantation sector recorded in 2020 were attributed to palm oil firms. And with movement restrictions imposed by the government to curb the spread of the virus, local communities and advocates were prohibited to assemble to carry out protests, a main avenue to oppose land grabbing and advocate for land rights.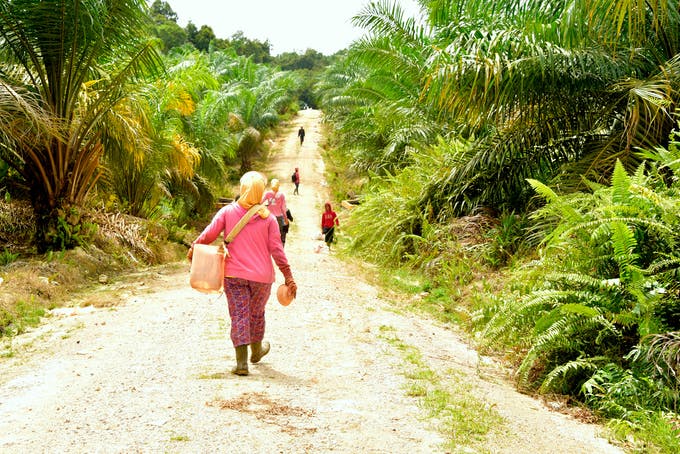 Land grabbing in Central Sulawesi
Meanwhile, Udin Masi, a peasant actively campaigning for land rights in the province of Central Sulawesi, decried how the country's abundant natural resources and rich biodiversity are being exploited or destroyed by big companies. Mining activities to extract gold, nickel and coal, as well as land use conversion that turns vast hectares of agricultural lands into plantations of coffee, coconut and palm oil for export interfere with the communities' way of life and livelihoods.
"Land, natural resources and industries in this province are not for the people. The majority are controlled by imperialist corporations and big land lords," Udin shared. "They also control the labour force and the market completely. Meanwhile, the state who is supposed to protect the people are using all means necessary, including mobilising the military and police, to force communities to leave their lands."
One of the major peasant struggles in Central Sulawesi is in Dongi Dongi of Sedona Village, a sub-district of North Lore. In 2014, the Ministry of Forestry allowed the expansion of Lore Lindu National Park, encroaching on 4,000 hectares of customary lands where the occupants were trying to cultivate food crops.
"The zoning of the national park restricted families from farming and forcibly displaced people from Dongi Dongi," Udin said. In response, peasant groups organised mass actions and campaigns to demand the government to exclude the lands of Dongi Dongi from the national park.
The long struggle of local communities in Dongi Dongi bore fruit when they were able to take back almost 40 percent of the disputed land through a Ministry of Forestry decree.
Rural people's demands
The land grabbing and human rights violations in Riau and Sulawesi raised awareness and enthusiasm among peasants to defend their rights to land and livelihood. According to Udin, it was in this context that they formed Forum Petani Merdeka, an independent farmers' forum in affiliation with AGRA. Together with Seruni and other mass organisations, they have been actively campaigning to oppose land grabbing as they continue to struggle for genuine agrarian reform.
The local communities of Dongi Dongi are pushing for the following demands:
Revoke the regulations and programmes of Agrarian Reform and Social Forestry of the Jokowi Widodo government
Revoke Regulation No 78 of 2015 – government policy on wage – a demand prior to the enactment of the Job Creation Law
Guarantee the means of the production and price of agricultural products of peasants
Stop the criminalisation of people who are fighting for land rights
Remove the Lore Lindu National Park's boundary markers in the agricultural lands of the Dongi Dongi community
Give the customary forest management rights to the Dongi Dongi community, covering the area of 4,000 hectares
Realise genuine agrarian reform and build national industry.
The victory of the rural community of Dongi Dongi in asserting their rights and reclaiming a portion of the lands taken from them is a reminder that strengthening the peasant movement is the key to their advancement and freedom from the grip of big corporations.
https://peoplessummit.foodsov.org/wp-content/uploads/2021/07/Indonesia_02-Protest.jpeg
918
1632
Global People's Summit on Food Systems
https://peoplessummit.foodsov.org/wp-content/uploads/2021/04/hungry4change-logo-1.png
Global People's Summit on Food Systems
2021-05-20 08:26:00
2021-07-22 08:31:45
Peasants Rise Up (Indonesia): Women in palm oil and a community's victory vs. land grabbing